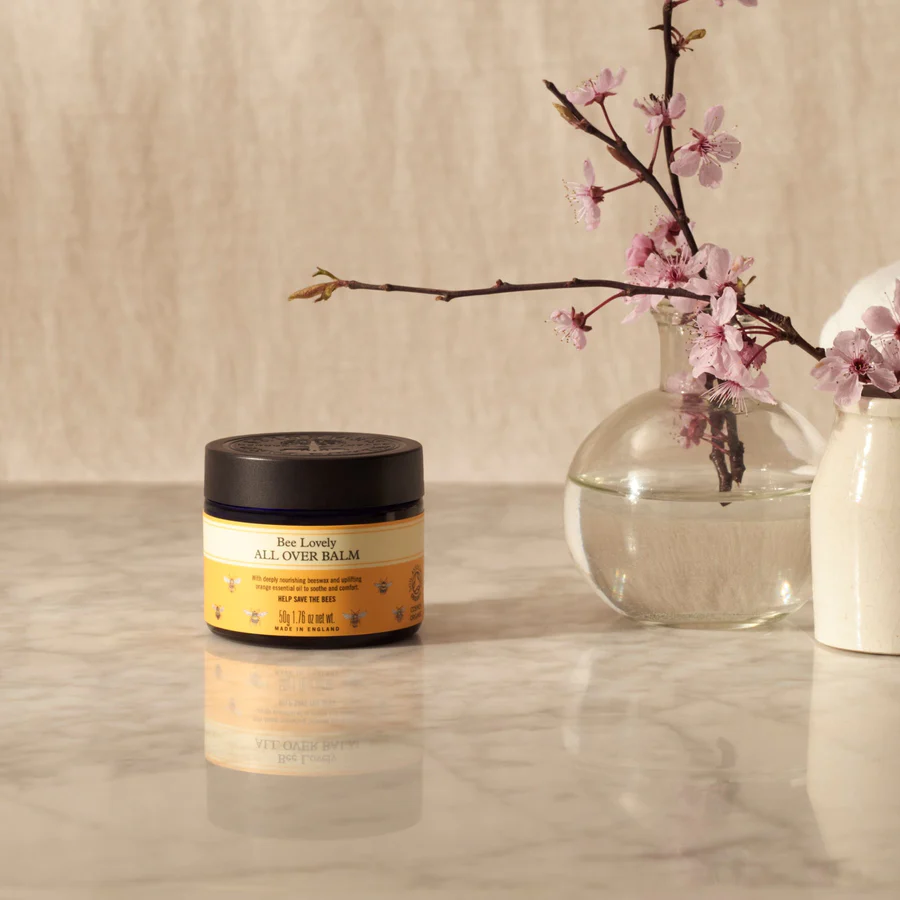 Bee Lovely All Over Balm 50g
This deeply nourishing, organic body balm instantly relieves dry and rough patches of skin* such as elbows, feet and knees. Easily absorbed, with the uplifting aroma of organic orange essential oil, it's perfect for keeping the whole family soft and beautifully scented.
Bee Lovely and help Save the Bees
Support 100's of bees with every Bee Lovely All Over Balm, as 3% of sales from our Bee Lovely range goes to charities that help protect this humble, vital insect. 
Multi-purpose body balm
Deeply nourishing*
Soothing and comforting*
Absorbs easily onto skin
Uplifting orange essential oil
Create a home for 100's of bees when you buy me!
99% organic
*Based on consumer trials  on 60 people
Good for the bees, good for Ghana
The main charity that we support through sales of our Bee Lovely range is Bees for Development, which has introduced bee colonies into cashew orchards in Ghana to boost harvests, after low yields were found to be a result of poor pollination.
This unique project benefits both bee populations and farmers and the results are staggering, with yields doubling in previous studies, plus farmers earn valuable additional income from honey. Bees for Development identify and support cashew growers who are most vulnerable and most in need.
Last year we donated £9,000 to the project to begin providing training, support and hives for the cashew farmers. Over the next year we want to raise a further £26,000 for this project through sales of our Bee Lovely collection, to support 100 cashew farmers to each install ten hives.
1.Nourish your knees - keep dry areas such as elbows and knees beautifully soft
2.Help hardworking hands - soften dry and work-worn hands with a dab of balm
3.Keep feet beautiful – exfoliate rough feet with a pumice stone and massage balm in for soft feet
4.Replenish parched skin - use as an overnight body balm to give dry skin a treat
5.After-play skin saviour - use after swimming and outdoor activities to moisturise dry skin
Ricinus Communis (Castor) Seed Oil*, Helianthus Annuus (Sunflower) Seed Oil*, Calendula Officinalis Flower Extract*, Cocos Nucifera (Coconut) Oil*, Cera Alba/Beeswax*, Theobroma Cacao (Cocoa) Seed Butter*, Citrus Sinensis Peel Oil Expressed*, Tocopherol, Limonene, Linalool, Citral, Farnesol, Geraniol.

*Organically produced ingredient. Natural constituent of essential oils listed.

Made with 99% organic ingredients.
Our awards and certifications